MPPS FLASHING TOOL
---
MPPS
by 
AMT Cartech
 is probably the most affordable solution, but also one of the most flexible of the programming market. It offers the advantage of being reliable, and compatible with the majority of VAG vehicles.
We are using the MPPS True master with a Tricore boot module .
BDM100 FLASHING TOOL
---
BDM100
by
EVC electronic
"This tool can be used to program ECUs with Motorola MPC555 – 565 microprocessors.
This generation of Motorola processors contain 448KB – 1MB Flash memory. That memory cannot be read and programmed with an eprom programmer. It is achievable using the so called "BDM" interface via the 10-14 pin programming port. Using the BDM frame and ECU specific adaptor/probe it is possible to connect to the BDM port without soldering"
Tricore BDM frame
---
This frame from
ECUBAY
 is a massive and strong aluminium second generation Tricore BDM Frame that suits all your needs regarding flashing the ECUs. 360 degree arms and deck rotation, non conductive coating, 6cm and 4cm adapter size and gadgets support.
See more about this frame on ECUBAY.COM
VAG CAN PRO
---
VAG CAN PRO
 by
VAG-TECH
, a good alternativ to VCDS....
"The VAG CAN PRO software was designed for programming and diagnostic all electronic components in VW, Audi, Seat, and Skoda vehicles manufactured between 1993 – 2017. 
Unique Guided Functions OCF (OneClickFunction)"
IDA
---
IDA 6.8
by
HEX-rays
IDA is the Interactive DisAssembler: the world's smartest and most feature-full disassembler, which many software security specialists are familiar with.
Written entirely in C++, IDA runs on the three major operating systems: Microsoft Windows, Mac OS X, and Linux.
IDA is also the solid foundation on which our second product, the Hex-Rays decompiler, is built.
MiniMon
---
MiniMon
by
Infineon
"MiniMon is a tiny monitor program that is started via bootstrap loader to any C16x, XC16x micro controller system. Functions included are: load / save / modify files, Flash/OTP programming, view memory as assembler code, start applications, SFR view"
Download : MiniMon V2.2.33
PCAN Pro FD
---
PCAN Pro FD
by
PEAK-system
"The PCAN-USB Pro FD adapter enables the connection of CAN FD and LIN networks to a computer via USB. Two field busses can be connected at the same time, up to four with appropriate adapter cables (2 x CAN FD, 2 x LIN). Each CAN FD channel is separately isolated against USB and LIN with a maximum of 500 Volts. Its robust aluminum casing makes the PCAN-USB Pro FD adapter suitable for mobile applications."
PCAN Explorer 5
---
PCAN Explorer 5
 by
PEAK-system
"PCAN-Explorer is a universal tool for monitoring data traffic on a CAN network. For easy and clear allocation of the individual messages, these can be identified as so-called symbols. The integrated VBScript support allows the creation of macros to automate complex tasks. The integrated data logger means that the data traffic of a bus can be recorded, analyzed, and stored. PCAN-Explorer is designed as automation server and can therefore be remote controlled through scripts."
ARDUINO DUE
---
DUE
by
Arduino
"Put your Arduino project on TURBO mode with the high-speed, high-power Arduino Due! The Due cranks it up to 11 with an 84 MHz ARM core processor - 512K of FLASH storage! 96K of RAM! Both USB client and host! The Arduino Due is ideal for those who want to build projects that require high computing power."
My best friend!!!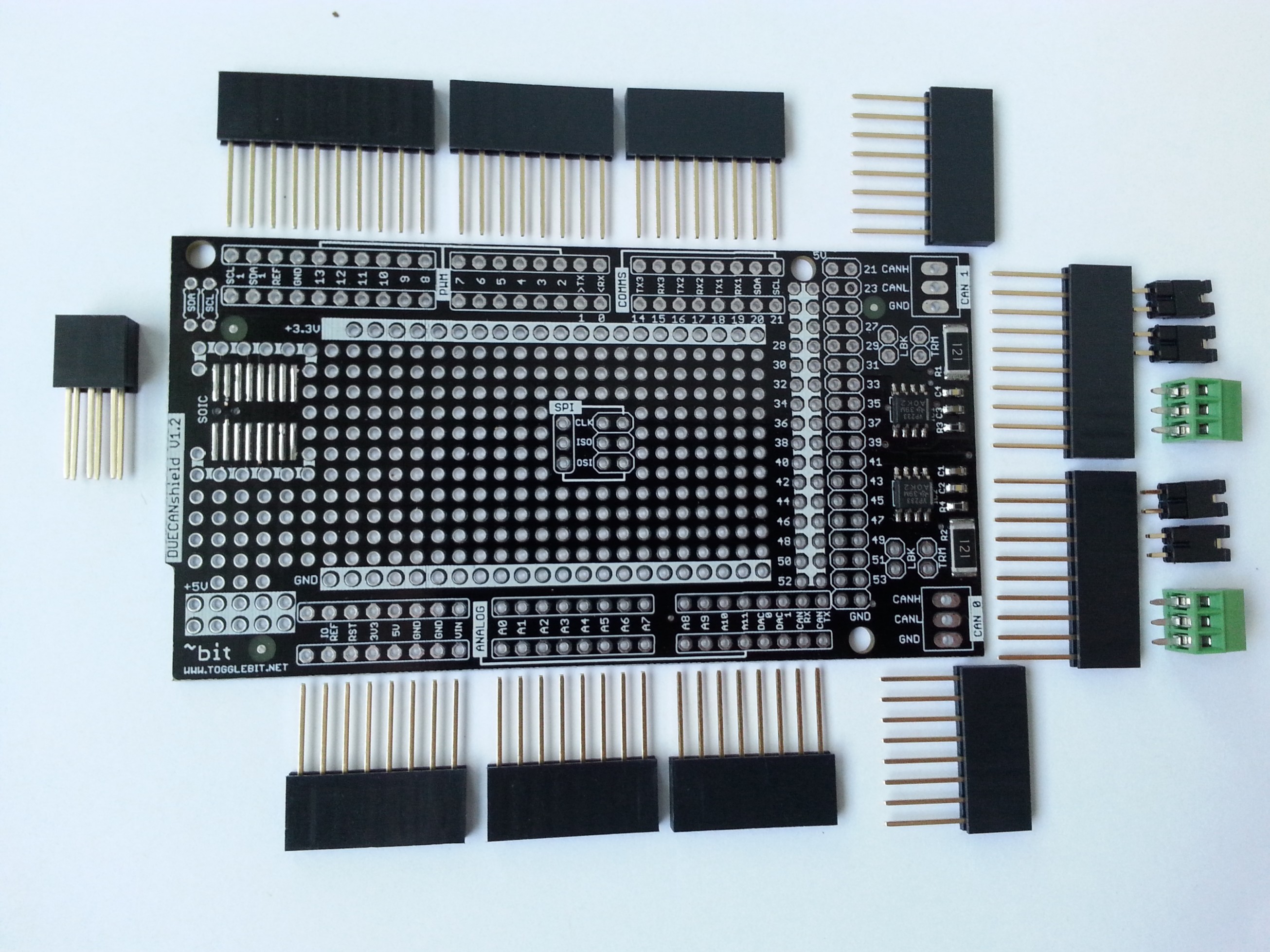 DUE CANshield
---
CANshield
by 
Togglebit
"This is a prototyping shield designed specifically for supporting the CAN bus capability on the Arduino DUE. The board incorporates dual CAN transceivers required by the two integrated CAN ports on the DUE while providing a large prototyping area. The shield is pin-for-pin compatible with the Arduino DUE and includes a 3.3V bus, 5V bus, SOIC breakout, full digital breakout, CAN termination resistors and terminal blocks for CAN connections."
The best friend of my best friend!!!